ERP system. Implementation. Adaptation.
Enterprise resource planning system (ERP system)
Capabilities
Clients. Communication. History (CRM)
Warehouse. Smart order routing
Services. Service flow chart. Service lifecycle
Product variations with multiple attributes
Exporting/importing of reports to Excel
Customized statistics. Data visualization
Fully configurable sales funnel
Electronic appointment book
Loyalty program. Partner program
Smart cash register. Barcode scanner
Integrated data aggregation engine
Dynamic customer segmentation
Employees. Payrolls. Ratings
Tracking leads from advertisements
Multi-channel campaign management
The implementation of an ERP system can take from 4 months to a year, depending on your objectives, the size of the enterprise and the availability of a detailed description of the company's business processes. You need to be prepared for the initial resistance from the working staff to work with new and unknown software, it is possible to take training courses for staff.
Cost of implementation
The cost of implementation depends on the needs of the enterprise and the scope of work. Estimated personally for each company.
from $ 55 000
gradual payment
separation into phases
Get My Estimate
55.00 USD / hour
Examples of interfaces
and design of some modules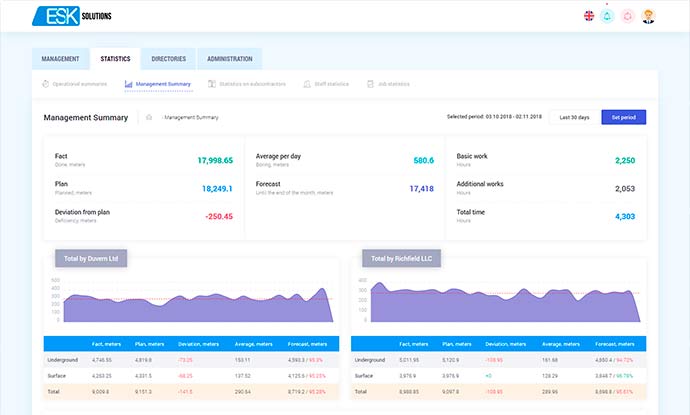 Example of a part of ERP system for a mining enterprise (demo)
Interface Demo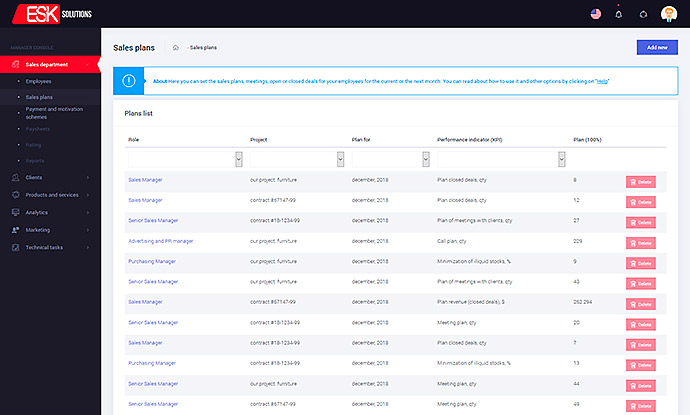 Settings of sales department, roles and sales plans, wage forms
Interface Demo
Benefits for Small Business
The minimum cost of product implementation
The possibility of a phased implementation, which reduces the one-time costs for your business.
Customizable business process analytics
Get analytical reports on ready-made formats or based on your preferences.
PDS 2.0 methodology, customization to client
All software adapts us for your needs
Potential improvement of automation:
1
5 times
reducing accounting costs
2
7 times
faster processing orders from new customers
3
2 times
faster task setting for field managers
4
3 times
more information about the activities of your employees, including remote ones
5
2 times
effective use of promotional funds by reallocating to the best sites
6
2 times
easier to segment customers by their behavior, repeat purchases, create cohorts