Trigets.com – Landing Site Builder
Assigned Task
Initially, the task assigned to us was the development of a cloud-based CMS (Content Management System) for building landing pages. Later, this task was expanded to development of a full-featured landing site builder with broad capabilities and a simple, user-friendly interface.
Development Team Personnel
The dedicated landing site builder development team comprised a Team Lead, two Senior Web Developers, a Designer, an Analyst, and two Front-End Developers.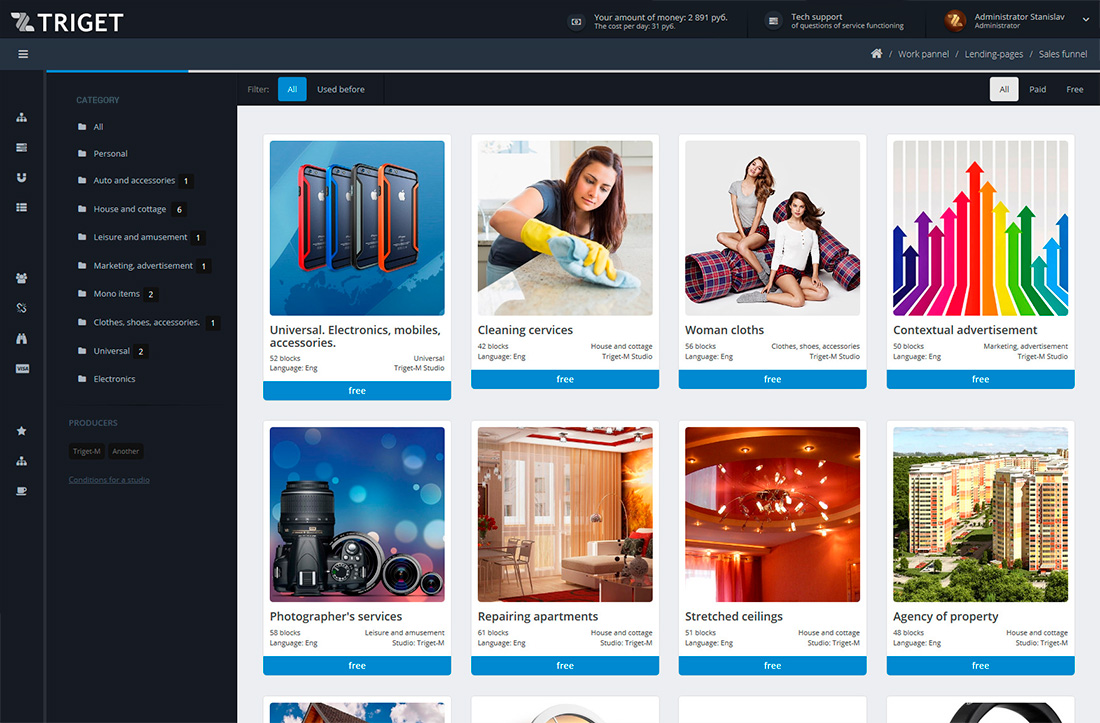 Project Description
The development work on the project lasted for a year before the fully completed landing site builder was launched in early 2014. The result is a landing site builder for creating a DIY landing page or a site, that is simple to use, does not require from its user any tech or coding knowledge, and contains a set of ready-made block templates a user can utilize to effortlessly build a handy, functional, and aesthetically attractive landing page or site. Before users can start creating their own page or site, they need to sign up first. The email address they use to sign up with will become part of their newly created site's domain name. The landing site builder incorporates the following features:
A selection of landing page templates.

A user can choose from several customizable templates designed for conversion (each of which contains 50+ ready-made blocks). Users can create their own theme by changing the page style or color scheme or, if desired, create an entirely customizable layout by dragging and dropping the blocks (the pre-built graphic elements and modules) on the landing page.

Multi-page site design.

A user can build a website with multiple landing pages, each aimed at a particular type of target audience. The number of landing pages a user can create is unlimited. Each landing page has separate analytics tracking and can be A/B/n tested, which helps greatly increase conversion.

A/B/n tests.

With our landing site builder, there is an option of creating multiple versions of one landing page. Straightforward and easy for anyone to understand, A/B/n testing allows a user to select the most efficient landing page variant, and to choose the type of forms that perform best.

CRM system.

The landing page has a built-in CRM that automatically collects data about the landing site's visitors – even visitors who only partially filled out their registration form, without completing it; this results in an increase in conversion rates and can lower the cost per lead. The contact form allows a user to add notes associated with a client's details or leave comments on the user's next actions towards a client.

Product catalog and photo gallery support.

Another important option of our landing site builder is a possibility of adding a product catalog and a photo gallery of completed work, both of which allow the landing site's owner to tell his or her visitors the company's brand story. With our landing site builder, a user can post product photos and descriptions, accept online payment for the product, keep records of inventory and display available stock of his or her product, and import and export data about his or her product.

End-to-end analytics.

By collecting complete statistics on each of the landing pages, a user can track traffic, conversion, referrer sites, and more. There is a possibility of adding UTM tags to get traffic statistics based on traffic sources.

Third-party integration.

The created site smoothly integrates with third-party services that make it easy for the visitors to buy the product (like Robokassa, Yandex.Checkout, Bitrix24, RetailCRM, MailChimp email marketing service, and others). Integration improves conversion rates and makes the landing site convenient for visitors and the site owner. A user can create a partner program.

SEO optimization.

When saving the newly built landing page, a user can add main meta tags for the page to optimize it for the search terms that are relevant to the business domain.
When all is accomplished, the user gets a unique full-featured landing site with an unlimited number of pages and all the required functionality, like product catalog, built-in sales features and CRM system, analytics, and many more options that are key to successful Internet marketing. Moreover, a user can enjoy a 14-day free trial to experience the functionality of the service. After the 14-day free trial period is over, a single tariff will be applied for all users.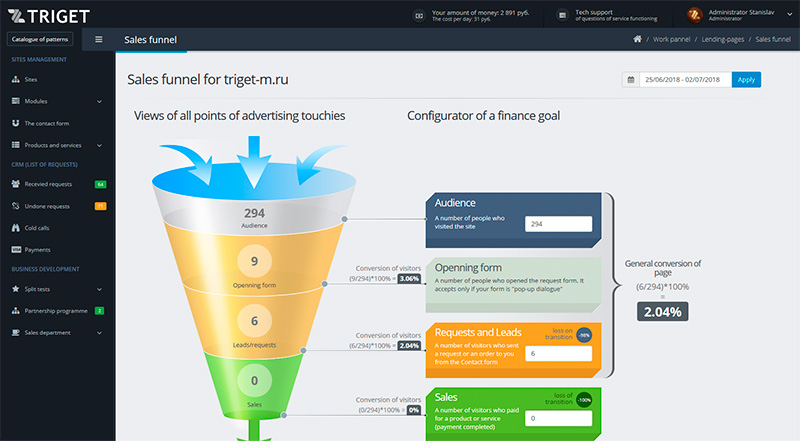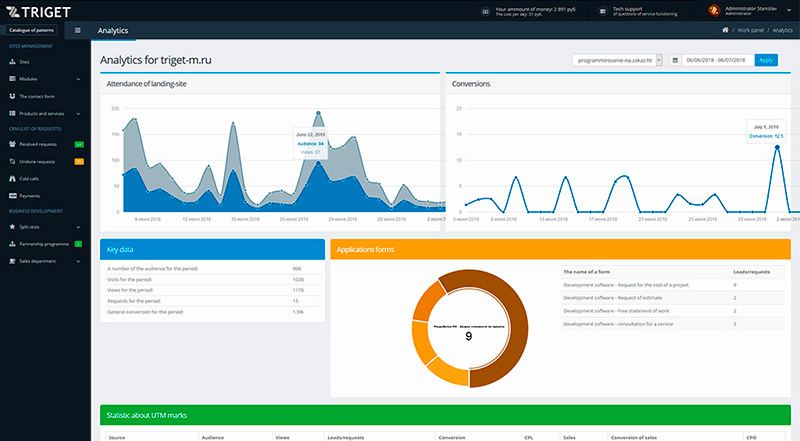 Problems and Solutions
During the work, our IT development team did face quite a few problems, both large and small, but was able to successfully resolve all of them.
Current Results and Future Work
Today the cloud-based landing site builder is successfully being used by thousands of unique users. Over time, the product has received dozens of updates to increase capabilities and functionality, and to improve user experience.
The development team is planning to do some additional work on the landing site builder in the future in order to offer even greater customization of the created landing sites and allow for greater functionality. What's more, the landing site builder will feature some exclusive, premium-quality templates developed by third-party web studios, that will be available for use for an additional fee.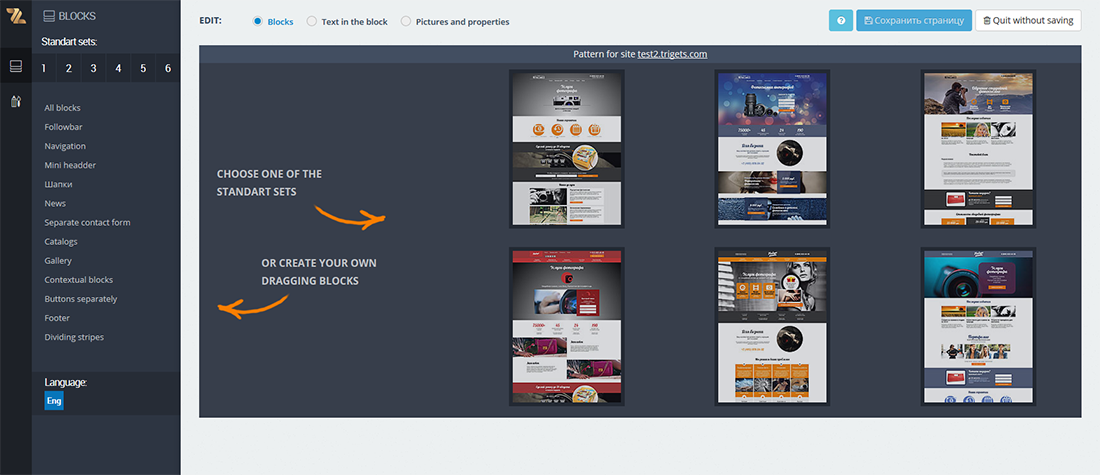 If you look at the screen shot of the landing site builder's main page, you'll be able to see that the landing site builder is so simple that you do not need any specialized tech skills to use it. You can quickly create a professional-looking website from the pre-defined, ready-made graphic elements (blocks) in just a few clicks.