Assigned Task
The client requested a web-based solution that automates the entire micro-lending process – checks the borrower's credit history, assesses the risk of non-repayment of the loan, and makes a decision on issuing a credit – all in just 1-2 minutes!
Development Team Personnel
Our dedicated development team comprised a Programmer, a Designer, and a Front-End Developer. A Project Manager was responsible for managing the project and communicating with the client. This small, yet robust, team of professionals was sufficient for the project's scale and scope.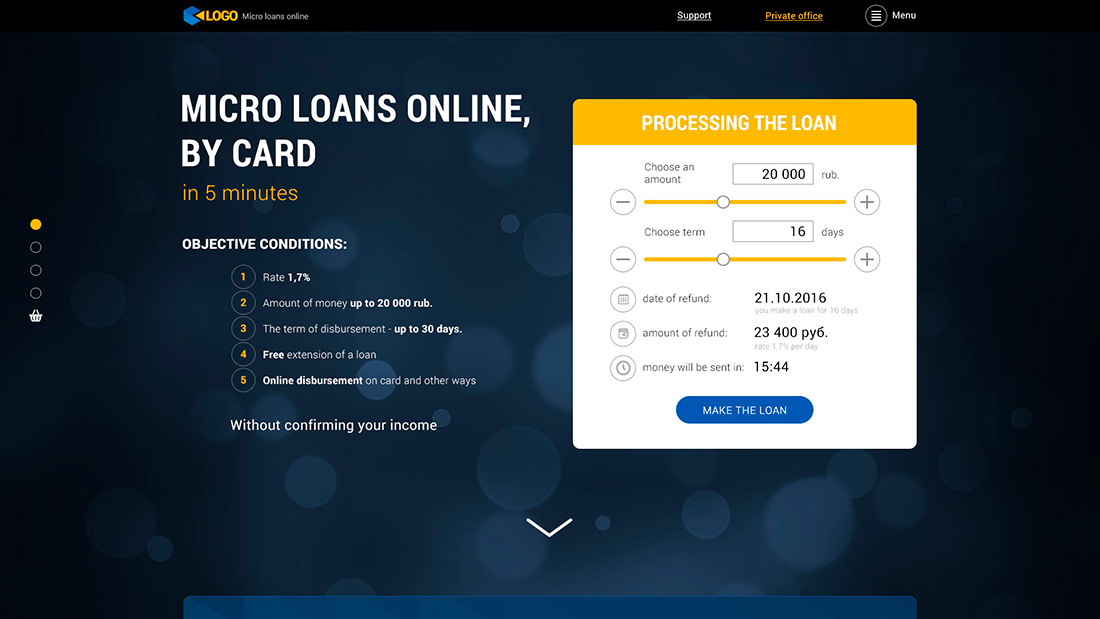 Project Description
Work on the online micro-lending platform took 4 months and ended in 2016. The development team:
developed the concept of a novel, user-friendly interface design of the micro-lending platform and fully implemented it;
created an attractive website design based on the client's corporate colors;
​created a mobile-friendly website layout for greater user convenience. This web-based solution was developed using the Yii framework.
​The new platform independently assesses the creditworthiness of a user who applies for a micro-loan. After the applicant completes the questionnaire with his or her personal data, the platform applies a series of attributes to measure "trustworthiness" by assigning a certain number of points to each attribute. Then the platform sums up the points, and, if the sum total exceeds a pre-defined threshold, the micro-loan is released to the borrower.
During the loan approval process, the platform considers not only the "standard" passport details of applicants, but also the content of their social media accounts, if they have any. The assessment and decision-making process take just a few seconds, which is noted by an elapsed-time digital display located above the loan request button. After the applicant confirms the loan agreement via SMS, the requested amount is transferred to his or her bank account.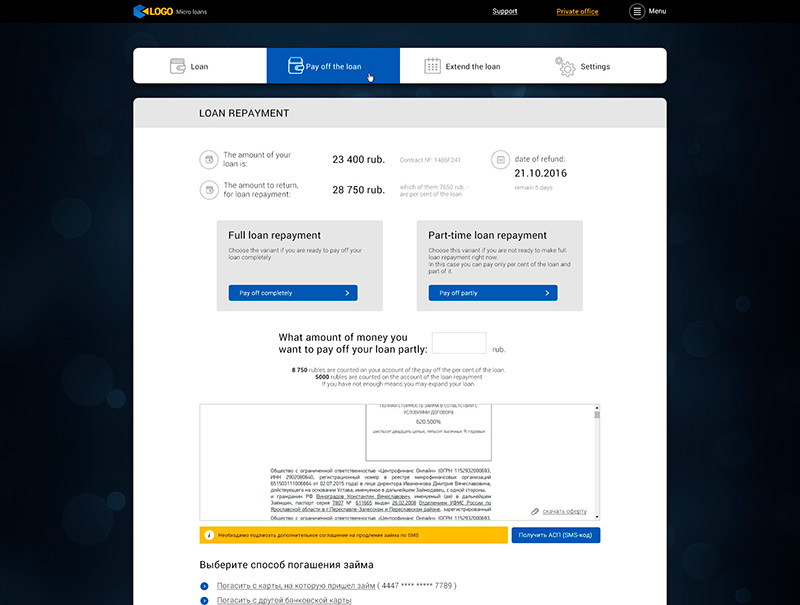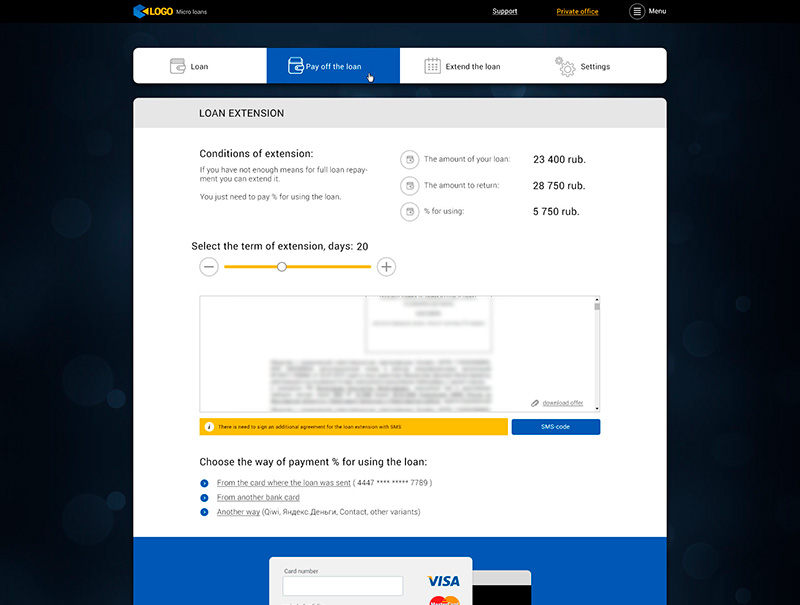 Besides approving and depositing the loan to the borrower's bank account, the platform also accepts loan payments from its borrowers online. The borrower can repay the loan via the user account that he or she created with this platform. There's also an option to prepay part, or all, of a loan, and to calculate the total interest payable on the principal amount unpaid. Additionally, a convenient loan calculator automatically calculates equated monthly installments.
A Problem, and a Solution
Quite the challenge for our staff was developing and implementing a valid and reliable credit-risk scoring system. For this purpose, we engaged a consultant – an external credit-scoring company with vast experience in credit-risk assessment.
Development Results
Our development team produced a functional, easy-to-use web application that meets all the client's requirements. There was no need for any additional work. Per the client's request, we cannot give you the name of the company that owns AviCredit, but you can check out the new software product at the provided link.