project summary
This web application was developed for a company that issues microloans. It provides borrowers a full-fledged opportunity to receive microloans online. The application realizes a full cycle of borrower analysis using a credit-scoring system.
CLIENT'S TASK
The client needed an application that issues microloans automatically after checking the borrower's credit history, assessing the risks of loan non-payment, and makes a decision on lending in no more than one or two minutes.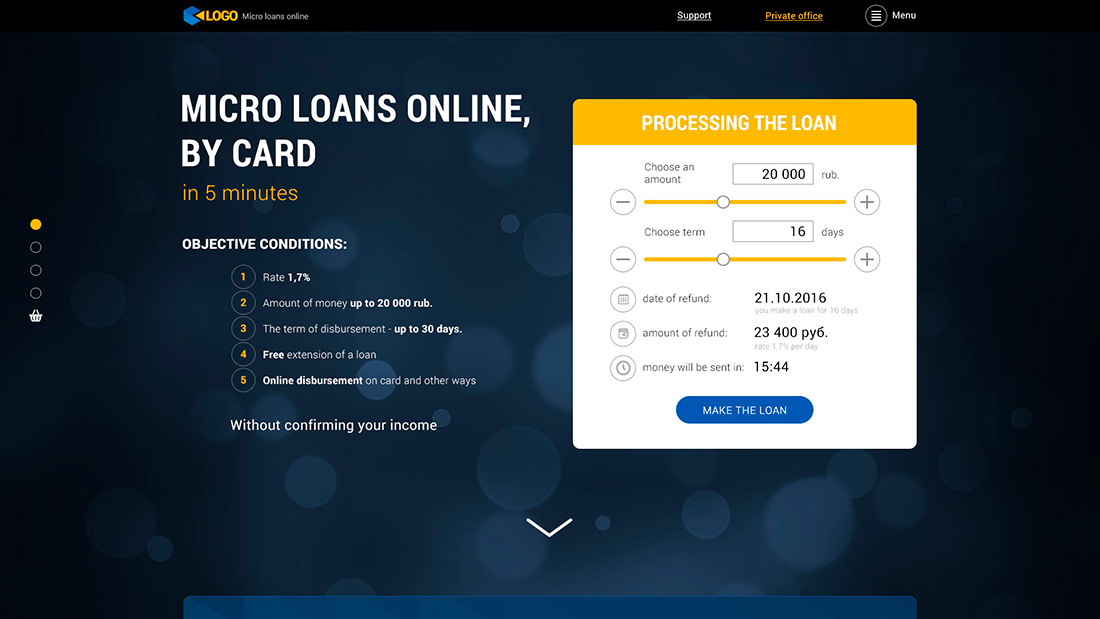 PROJECT DESCRIPTION
The project of a web application for issuing microloans was completed in 2016. It took 4 months to create it. During this time the development team has completed the following tasks:
Developed and fully implemented the general concept of the original user-friendly web application interface.
Created an attractive website design in the client's corporate colors.
Optimized the website for mobile devices which increases the usability of the application for users.
Developed the software.
The software product carries out an independent expert assessment of the creditworthiness of the user who applied for an online loan. The user fills in the fields of the questionnaire, where he enters his personal data. After that the web application assesses its conscientiousness using a series of attributes with a certain number of points for every attribute. The points are summed up, and if the total amount is higher than the threshold value, the system makes a decision to issue a loan.
When reviewing a loan application the system takes into account not only standard passport data, but also the content of the borrower's accounts on social networks.
Making an assessment and a decision takes just a few seconds which is confirmed by a digital elapsed time indicator located above the loan request button. The user accepts terms and conditions of the loan agreement via SMS, after which the requested amount is transferred to his bank card.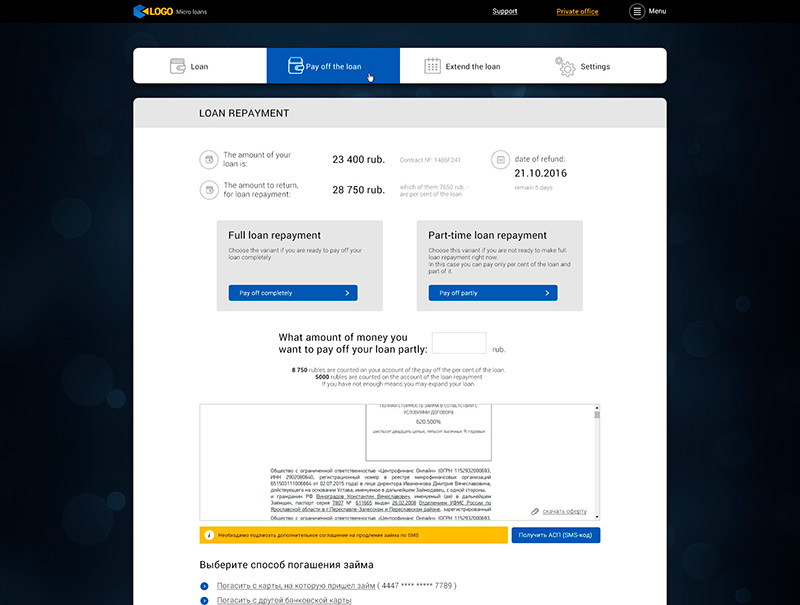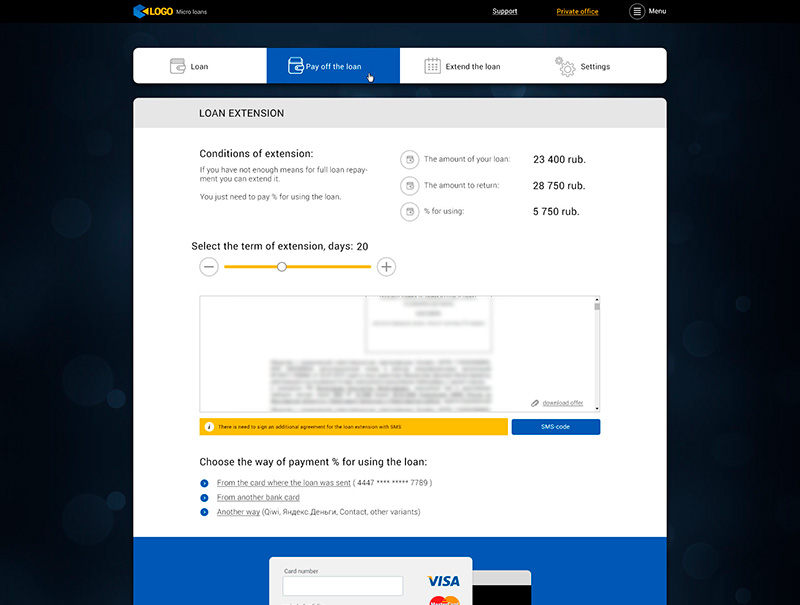 Alongside with granting loans, the web application accepts payments for their repayment through the Personal Account of the borrower.
We implemented the possibility of early or partial repayment of the debt with the accrual of interest on the balance of the loan body, as well as a convenient loan calculator that automatically calculates the amount of the monthly payment.
Challenges and Solutions
A certain challenge for our employees was to implement the system for assessing risks of a loan default.
To develop it, a specialized scoring company was involved, whose employees had vast experience in creating software of this type.
RESULTS
As a result our development team created a functional and easy-to-use web application with user-friendly interface that meets all the client's requirements. There was no need for any additional work. According to the client's request we do not publish the name of the company, however, you can evaluate the project by clicking on the link.